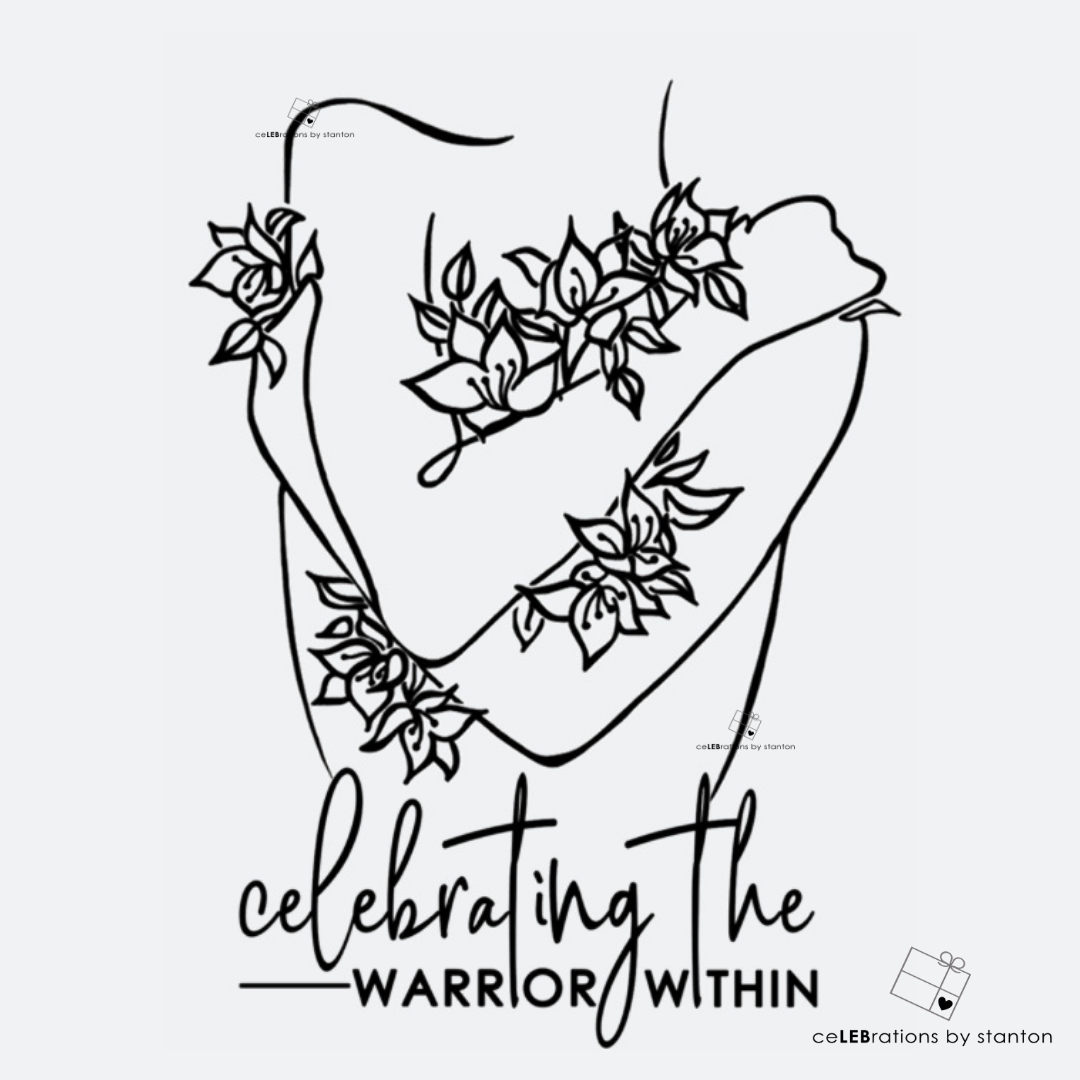 ceLEBrating the warrior within
I was inspired by my continued journey with Endometriosis to draw this design as a symbol of strength & self love.
A portion of the proceeds from the GIVEBACK BY STANTON collection will be donated to the education and awareness of Endometriosis.
May these products symbolize perseverance, hope & ceLEBration of all the warriors within… 
(SCROLL BELOW TO LEARN MORE)
ceLEBrating the Warrior Within
Being a warrior looks different for everyone. When you are faced with a forever challenge, it's hard to forget that what it looks like isn't the thing; Trying to remember that it is all about blazing a path that works for you, is! I am here to help ceLEBRate and support the warrior within…the inner force that gets each of us through each day. 
While ceLEBration and Endometriosis are not typically found in the same sentence, you can bet your bippee that when I learned after multiple surgeries, extractions, specialists and almost a decade of misguided medical direction, I was officially diagnosed with diaphragmatic (and other forms of) Endometriosis. Infiltrating my mood, physical state and infertility, this obvi wasn't great news. Despite it, I did ceLEBrate finally knowing what was happening and starting on my ongoing path of treatment. 

This design is inspired by my personal diagnosis and what it has taught me about doing my best to lead with empathy because - on the surface - a person may not show all going on inside. And they don't have to! 

My hope is that this hand-drawn (by me!) design can be a token of strength, growth, perseverance and hope for all the warriors within… and everything that means to those who wear it. (While yellow is the color of Endo support, you know this glam gal had to add a little pizazz which is why there are golden options) ✨
I'll spare the details here but anyone reading this should know that I can be a safe space and hopefully a resource to anyone experiencing something similar. 

Education and compassion around this subject feel like a mission to me. There is no cure and no one-size-fits-all treatment. There is little known about how it truly affects women. So, I am doing what I can in my little corner of the world to give back. A portion of the proceeds from these products will go to the Endometriosis Foundation of America to help find better treatment for and provide better education of all forms of Endometriosis.
Let's do this…
Let's ceLEBrate the WARRIOR WITHIN each of us!
Learn more